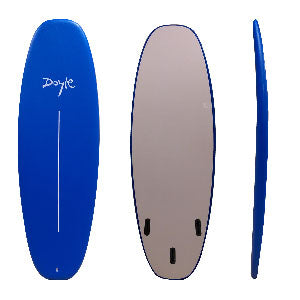 Doyle Speed-Sponge Softboard
Sold Out
Size: 5'4" and 5'8" The newest addition to the soft board line. This durable soft board has the same construction as the Doyle Performance soft boards. 
At 5'4 and 5'8" this shorter board paddles like a much longer one. Great for tube rides. Loose in the tail for 360's and side slipping. Super fast due to the minimum rocker. It's small enough to pack inside the smallest cars. FCS tri-fin setup (G5 fins included).

This board is just fun!
             Size:      5`4"       5`8"
    Thickness:      2.8"       2.8"      
Widest Point:     20.8"     20.8"
        Volume:    39.2 L    42.2 L