Cabo
After years of success with the Doyle Performance soft surfboard, Mike designed the Cabo as a lighter weight, higher performance addition to the soft surfboard line.
Lightening up the construction enables the board to have a tighter overall outline with features including a lower profile down rail for better trim and hold in turns
Coupled with medium rocker in the nose, low rocker in the tail, and higher volume than comparably sized hard fiberglass or epoxy boards, the Cabo is built for fun at all experience levels and in all kinds of surf conditions.
The all new construction gives this soft surfboard that signature fiberglass board flex and spring, creating opportunity for added drive down the line or rebound coming out of a turn.
If it's beach days with the family, teaching the groms to surf or having that fun, little soft surfboard stowed in the truck bed or car trunk for those "just in case" sessions, the Cabo is the perfect addition to the quiver.
         Size:     6'        7'          8'         9'     
       Width:   21.5"   22"       22.5"    23.25" 
Thickness:     3"       3"         3.25"     3.25"  
   Volume:    49L      57.9L    73.3L    85.4L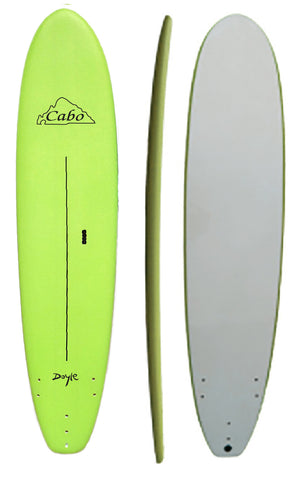 QUICK VIEW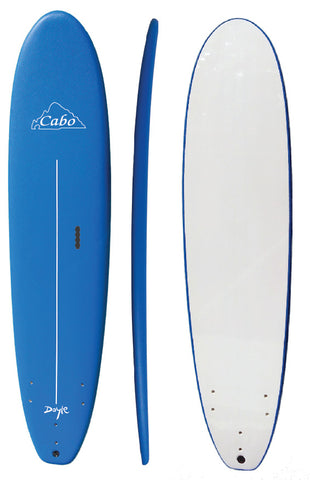 QUICK VIEW